Photo
Description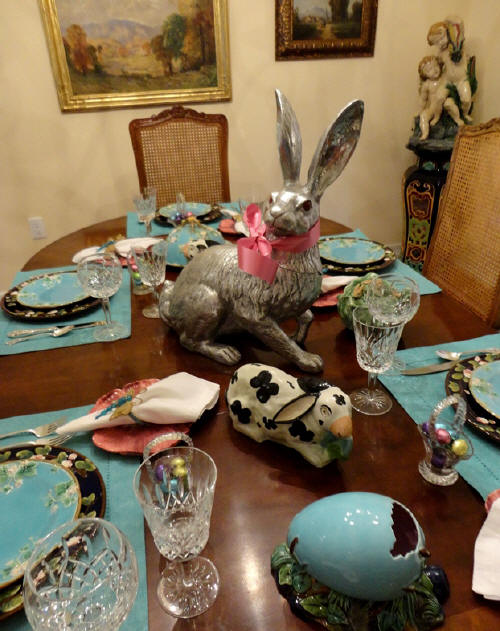 The theme for this table scape was inspired by a recent purchase of the 19th century, George Jones Apple blossom plates in aqua. The cobalt under plates are reproductions of this same pattern made by Mottahedeh & Company.

The bread and butter plates are shaped like a poppy and are also reproduction majolica. The large aluminum bunny in the center of the table is a vintage wine cooler made Arthur Court.

In the foreground is rare antique majolica spoon warmer, a robin's egg amongst cat tails, by Brown-Westhead Moore of England. The black and white bunny is one of a pair of 19th century Staffordshire bunnies.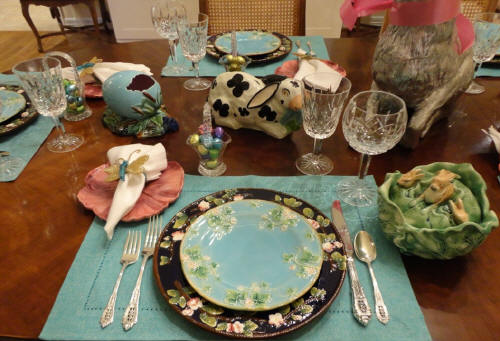 This detail of the place setting highlights a 19th century majolica butter dish of a mother rabbit and her three young bunnies in a head of cabbage. This is American, from Eureka Pottery of Trenton, New Jersey.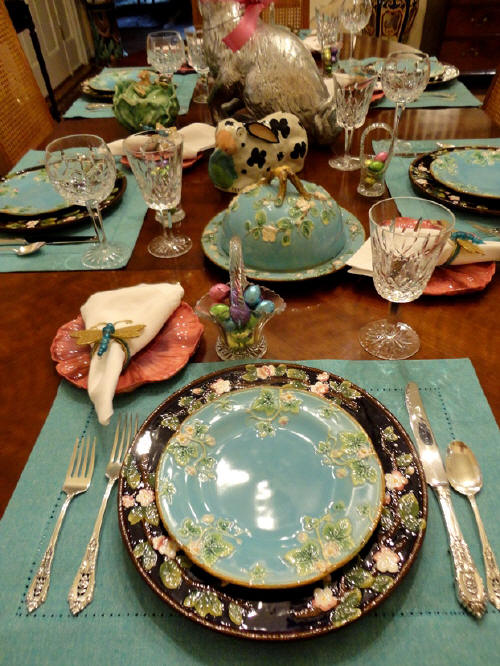 From this close up view one can see additional details...

The silver is Rose Point by Wallace. The napkin ring on the white linen napkin is a beaded dragonfly. The glass basket filled with small chocolate eggs is vintage America glass. The aqua apple blossom muffin stand is 19th majolica from George Jones of England.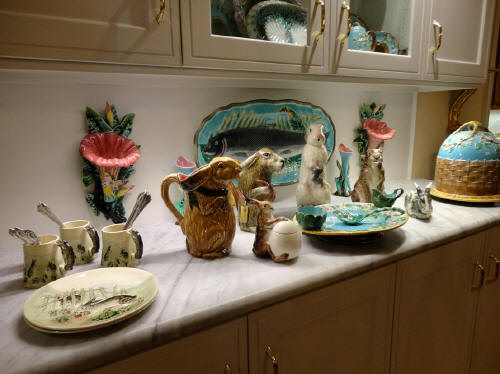 On the buffet is a display of Spring and Easter items...from left to right are three bunny mugs from Choisy-le-roi, France, used as utensil holders, along with bunny plates from the same company. Next is an extremely rare, French bunny pitcher with a metal "1900" hanging from his neck, then the Orchies bunny pitcher (also) French. The large white bunny pitcher is from St. Clement, also rare, then the rare Sarreguemines bunny pitcher. In the foreground is a bunny with egg Humidor by Sarreguemines, a strawberry server with cream, sugar and spoon but George Jones of England, a crouching bunny flower holder by Massier, also French and the George Jones apple blossom Stilton cheese stand. Pieces in the background are, a pair of hibiscus with butterfly wall pockets by Five Lille, also French, a large salmon platter by Wedgwood of England. The small pair calla lily vases are by Sarreguemines. All of these pieces are circa 1850-1900.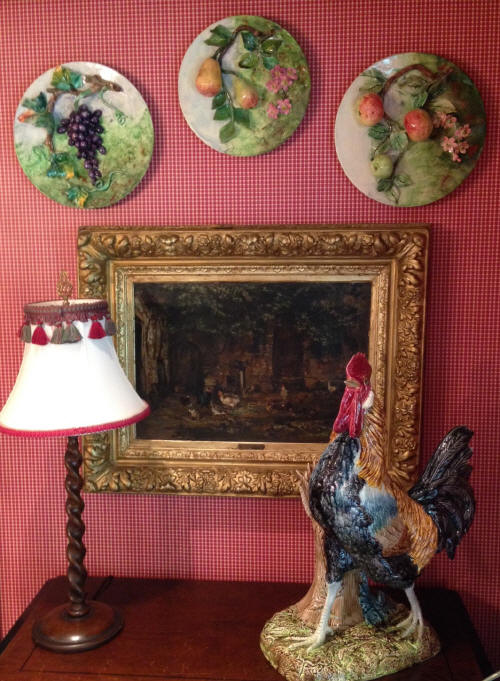 This kitchen corner bursts with primary colors from a group of Continental Majolica. The group of French Longchamp fruit and blossom on branches plaques arch from above and a very large Belgium rooster vase by Nimy frame a barnyard Oil painting. Finally, light is added with an English barley twist lamp with a modern shade.
Pair of Minton majolica cornucopia vases with standing putties with a pair Staffordshire flop eared rabbits with lettuce on mantel.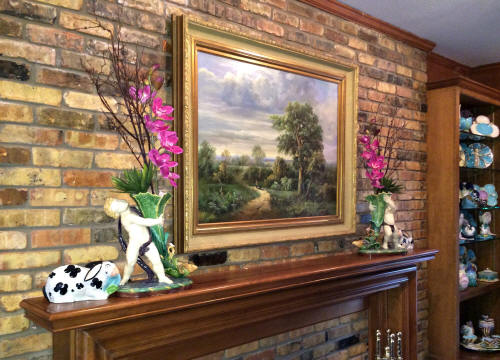 Pair of Minton majolica cornucopia vases with standing putties with a pair Staffordshire flop eared rabbits with lettuce on mantel with side shelves of oyster plates.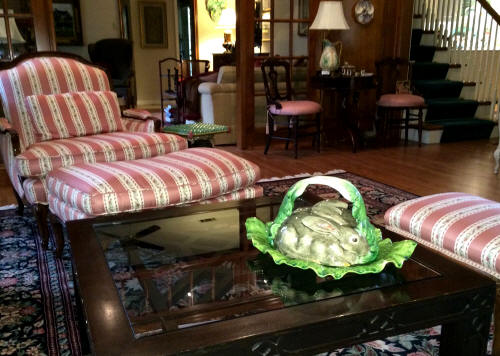 Pinheiro (Portugal) lettuce leaf tray with a cover modeled with twin bunnies and lettuce.

Far in the background is a display lamp with a English pitcher by Samuel Lear and a Wedgwood oyster plate on the wood paneled wall.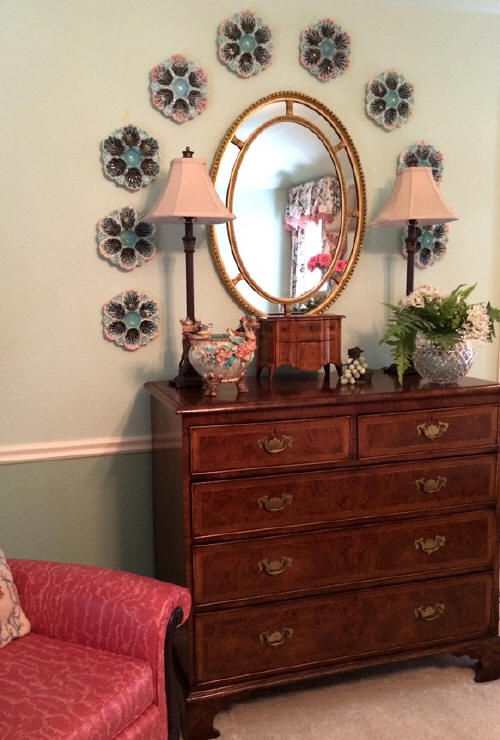 This master bedroom wall has an arch of 10 French oyster plates from the 19th century majolica pottery Five Lille, surrounding a gilded oval mirror.

On top of the Italian dresser is a unattributed French Barbotine jardinière with applied birds and blooms.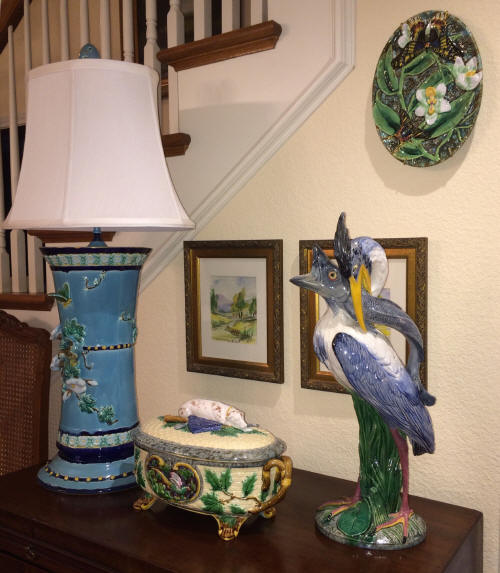 This little venue is full of Victorian majolica treasures. From left to right starts with a rare Holdcroft Bird, Butterfly and Floral vase serving as a lamp base, then the large version of the Minton Gun Dog Game Pie dish, followed by the Minton Heron & Fish ewer and lastly the George Jones Butterfly and Orchid tray hung on the wall.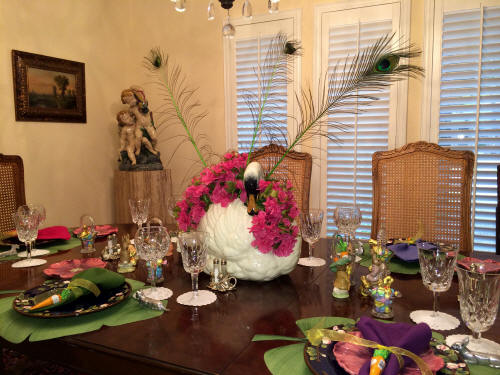 Massier majolica Swan Jardinière as a table center with flowers and ostrich feathers.

In the background is a Minton majolica twin putties Fountain on marble pedestal.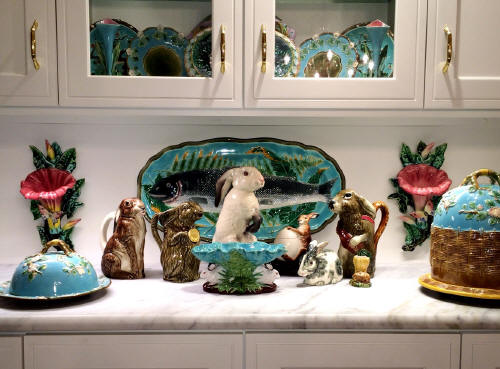 Easter can be so much fun, bringing some of my French and English majolica Rabbits together. Some I've had for a while and some are very recently added to my collection; like the Minton Double White Rabbits Under Cabbage Leaf compote in the center foreground.